Last Updated on June 28, 2022 by Gardens Home Management Services
Message From The President
It only takes one storm to change your life and community. Hurricane season is again upon us and it is imperative that all of us are prepared and evacuation and home protection plans are in place. The GHMS team is geared up for hurricane season 2022 and ready to weather any storm. Remember, we will keep you informed with hurricane updates on our website!
Sincerely,
Chip Sollins 
2022 Atlantic Hurricane Season
Accuweather has updated their outlook for the 2022 Atlantic Hurricane Season. They are expecting this season to be more active than normal with an updated forecast of 16-20 named storms, 6-8 hurricanes and 3-5 major hurricanes. A major hurricane is one that is a category 3 or higher (115-plus-mph winds). Continue Reading
It Only Takes One Storm…
An average hurricane season has 12 named storms in the Atlantic, six of which strengthen into hurricanes and three of those becoming major hurricanes. Last year's hurricane season featured above normal activity, producing 21 named storms, 7 hurricanes, and 4 major hurricanes of Category 3 strength or more. A record of 8 named storms made landfall in the U.S. last year.
By knowing what actions to take before the hurricane season begins, when a hurricane approaches, and when the storm is in your area, as well as what to do after a hurricane leaves your area, you can increase your chance of survival. The best time to prepare for a hurricane is before hurricane season begins on June 1. It is vital to understand your home's vulnerability to storm surge, flooding, and wind. Here is your checklist of things to do BEFORE hurricane seasons begins.
Hurricane Preparedness Tips
Tropical cyclones are among nature's most powerful and destructive phenomena. If you live in an area prone to tropical cyclones, you need to be prepared. Even areas well away from the coastline can be threatened by dangerous flooding, destructive winds and tornadoes from these storms. Hurricane Preparedness Week (May 1-7, 2022) is your time to prepare for a potential land-falling tropical storm or hurricane. Click Here for Hurricane Tips!
GHMS Employee Spotlight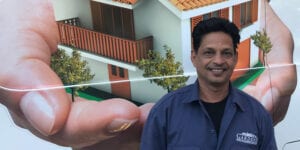 Tulsee Heralall has been with GHMS since 2002. Tulsee was born in Guyana, a small country in South America. Tulsee and his family moved to the United States in 1994, where he attended a technician institute specializing in plumbing and construction.
 Tulsee and his wife have been together for almost 20 years and they have 3 children that grew up here in Palm Beach Gardens.